In our system, you can work with two types of receipts as standard. A kitchen receipt and a bar receipt. But for some organisations, this is not enough because they also prepare their products in other or specific locations. Think of products that are made in a certain part of the kitchen or in the coffee corner at the bar. The receipts of the products must then also be printed in different places. With the print locations feature, you can define which products should come out of which printer.
You need a separate printer for each specific place. Please note that it must be a network printer. Would you like more information about this feature or network printers? Then get in touch with us!
Setting print locations
Step 1. If Twelve has set up the print locations (this always happens with the Table Voucher module), you can set up any desired printer yourself via the product management.
Step 2. Go to Product admin > Products > Bulk operation. Click here for more information.

Step 3. Open the column with 'Ticket print class'. Then you can indicate for each product on which location it should be printed.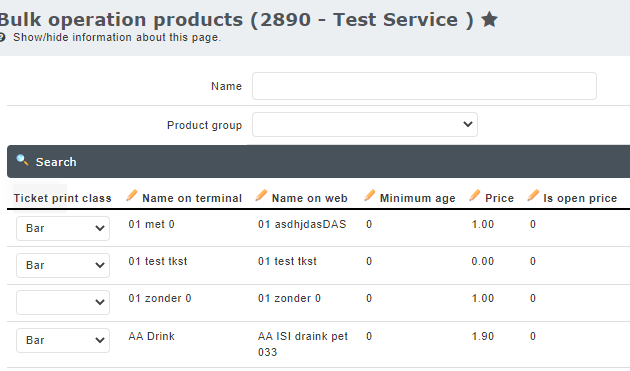 Step 4. Please indicate clearly which ticket design you require, so that we can set it up correctly.